It finally happened. Radio/Television Broadcast Journalists in the Air Force are now called:
COMBAT CORRESPONDENTS
With the help of my boss, I crafted a proposal to change our name to Combat Correspondent...and it was approved. I can't take all the credit...I'd like to, but there were others who had a say. I was the only one who brought in the dictionary and a grammar book.
So what does this mean? Am I now equal to my Marine buddy Troy? Although this picture doesn't prove it...he is a true Combat Correspondent.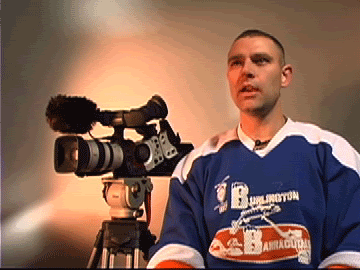 Troy and I went on a dismounted patrol in Nov 2003, through the town of Beji Iraq. It was about two weeks before they found Saddam...just a few miles away. Armed with our camera, tripod, 9-mil, and this HUGE SFC...we walked the streets. Troy set up to grab the footage of the patrol storming into a house where suspected terrorists were. He was BRAVE! He had his camera and head exposed to possible danger. Me! I was about ten fellas back...with the tripod. Does this make a Combat Correspondent? Troy is...me...well maybe!
Here is a picture of Brent Skeen from our trip to Iraq in 2003.
Here is a picture of me and Bobby Herron from the third radio show ever on Freedom Radio...By the way, we won a Thomas Jefferson award for this very show....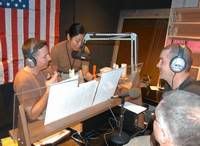 And here is a picture of your future Combat Correspondents: